Craftsmanship Matters: A Home Builder's Eye for Detail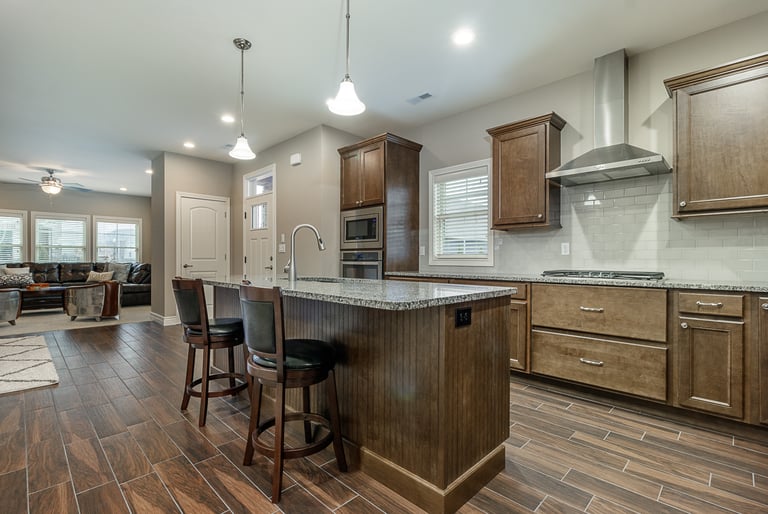 Craftsmanship. It's something that takes a lifetime to develop an eye for. Something that many people downsizing into 55+ communities have in spades. You want the smaller, low-maintenance living space - what you don't want is to sacrifice the important things in the process. You want a home that offers exceptional craftsmanship and all the details that allow you to age in place gracefully and comfortably.
A Home That Ages As Beautifully As You
Many people choose to consider 55+ active communities for the amenities the community offers. This includes things like clubhouses, golf courses, tennis courts, swimming pools, gated security and a peaceful lifestyle. The sense of community in these areas is another important consideration - one that makes living in a 55+ active community even more inviting.
For many who have raised families that are now raising families of their own, a large home is a lonely place. While you want to have room for the family to visit, you don't want to be bogged down in the details of maintenance, home care, and a large home to keep clean and manage. But, you don't want to give up the benefit of home ownership either.
At Linkside, you can downsize your responsibilities without downsizing the lifestyle you prefer to lead. Linkside at Old Hawthorne offers services like resort style landscaping and all the benefits of home ownership. But...what about quality?
Setting the Standard for Quality Craftsmanship
The homes, however, are what set one community apart from the others. This is where the difference lies and where a community where home builders focus on excellence when it comes to craftsmanship matters. Below are a few indications that a home is built with quality construction in mind:
Abundant cabinet storage.
Beautifully-finished appearance.
Full trim around windows and doors.
Upgraded living spaces.
Granite countertops.
Plenty of insulation.
Cabinet drawers that can handle weight.
Stone or brick exteriors.
When you're considering a 55+ active community, though, there are other signs of quality craftsmanship and customization you might wish to consider, such as the following:
Curbless bathrooms and zero entry bathtubs. Also look for handrails and shower seating. These things help you maintain safety in your home while remaining independent as you age.
Wider doorways and halls to accommodate wheelchair access. This makes it easier to age in place, even if you are perfectly mobile now, making the home a longer-term investment.
Light switches and outlets placed at appropriate heights for easy wheelchair access. At first glance, you may not need these things, but eventually may require them and will find them a blessing to have in your home.
Scratch proof surfaces. It all comes down to easy cleaning and maintenance. Small touches like these make a huge difference.
Excellent lighting throughout the home. From abundant windows to allow daylight into your home to overhead and task lighting, a well-lit home can be critical in preventing slips, trips, falls, and more as you age.
Quality Homes That Are Beautiful, Practical and Crafted With Excellence
When you're ready to find a home in a vibrant 55+ active community in Columbia, MO, it is time to contact Bob the Builder. Home builders Bob Hurdle and his son Blake are the builders and development team for Linkside at Hawthorne. They understand your needs and can build homes that meet them without sacrificing craftsmanship. For them, building beautiful homes that are practical and functional is more than a passion, it's an art form.