Warm Weather Walking: Exploring Mid-Missouri's Parks & Trails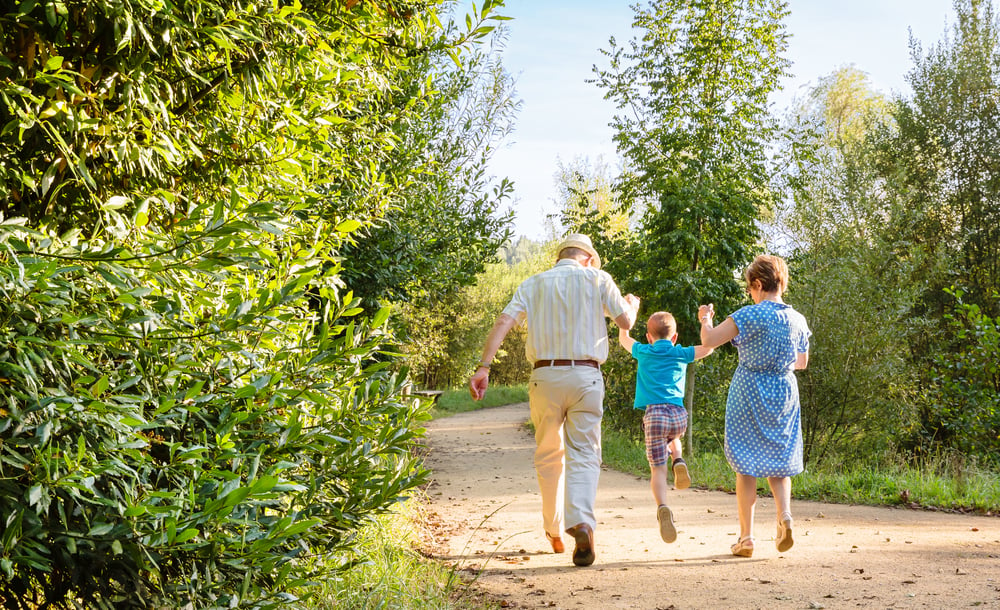 Everyone knows walking is great exercise. It's affordable and fun and requires little in the way of special equipment! Of course, good supportive footwear's a must. But how walkable is Columbia, Mo., home to Linkside at Old Hawthorne? Is it a pedestrian paradise? Or does it fall short on encouraging footfalls?
WALKING WONDERLAND
Actually, proximity to trails and parks is a major perk of living at Linkside at Old Hawthorne! As the weather warms, Columbians flock to the city's splendid system of scenic trails and parks.
Onetime Columbia Mayor Darwin Hindman was a "driving force" behind less driving in Columbia. He was a passionate advocate for a more bike- and pedestrian-friendly community.
ON THE TRAIL OF ADVENTURE
Columbians love their trail systems! A study showed 82 percent enjoy using the extensive trail system, which includes eight major trails, two mountain bike trails, 16 community park trails, 20 neighborhood park trails and eight connectors that wind in and around the city.
This crushed limestone trail extends from St. Charles in eastern Missouri to Clinton in western Missouri, and connects to Columbia from the MKT Trail, 8.9 miles outside of Columbia in McBaine. The Katy was built on the remains of disused railroad corridors and is the nation's longest rails-to-trails-project.
The MKT is Columbia's premiere trail. This 10-foot-wide trail built on the old rail bed of the Missouri-Kansas-Texas railroad begins in downtown Columbia in Flat Branch Park. The all-weather crushed limestone surface works well for walking, jogging, running and bicycling.
This 1.75 concrete surface trail connects thousands of Columbians to the places they need to be, whether that is work or home. It follows Grindstone Creek through the Waters-Moss Wildlife Area to Maguire Boulevard,which is part of the southern portion of the 30-mile loop still in progress around the city.
PANORAMIC PARKS
This beautiful park covers 116 acres, and features an 11-acre lake. A boardwalk connects to an island with its own shelter. Other attractions at this park include the Darwin and Axie Hindman Discovery Garden, and two multi-use hard-surface trails; one trail encircles the lake and the other meanders around the perimeter of the park, going through both open and wooded areas.
At Rock Bridge State Park, just a few miles from Columbia, you can hike and bike, and if you're extra adventurous, even take a try at spelunking through nearby cave openings.
Rock Bridge Memorial State Park has long been a mid-Missouri gem. For Columbia residents, and those who visit the city, the scenic park offers plenty of outdoor fun from hiking and mountain biking to cave exploring and wildflower spotting.
Another highlight of the park is the Gans Creek Wild Area, which spans bottomland forest, limestone bluffs and wooded hills. The 8-mile loop trail is a popular destination for hiking and birding. Native wildflowers and fruits, such as Spring Beauties and wild plums, fill the landscape.
The limestone Forum Nature Area Wetland Trails wind 1.8 miles through 105 acres that include Hinkson Creek, a small demonstration wetland habitat, woodlands and native prairie. The trail connects to the MKT Trail and the Twin Lakes Recreation Area.
MO WHERE THAT CAME FROM!
This is just a small smattering of the outdoor options you'll have easy access to when you take up residence at Linkside at Old Hawthorne in Columbia, Mo. If it's in your nature to get out and enjoy nature, you'll feel right at home!