Homemade Pet Food: Recipes & Tips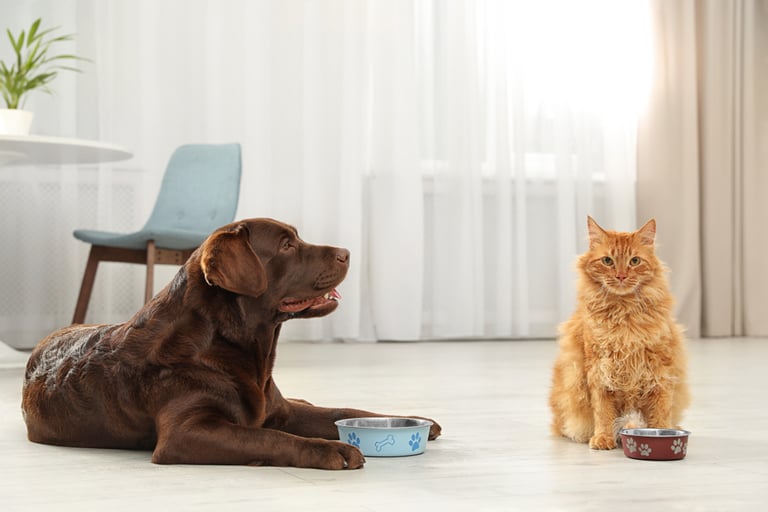 Pets are like family. You only want the best for them. And ordinary brown kibble just isn't going to do the trick. You want to know what's in the food you're feeding your pet. What's the best way to do that? To make it yourself. Fortunately, there are plenty of amazing pet food recipes your pet will simply salivate over. Even better? They're good for your pet too. Try these homemade pet food recipes and tips to see how quickly they'll have your pet's tail wagging with dinnertime delight!

Beef and Carrot Dog Food
This recipe has all the essentials for a healthy and happy pup. It includes vegetables, eggs, lean (unseasoned) beef, and herbs. While this recipe contains grains, you may wish to discuss with your veterinarian whether grains are recommended for your pet, especially if your pet has gluten allergies or appears to experience gastrointestinal distress after eating grains.
Ingredients:
6 cups of organic brown rice (cooked – 3 cups raw)

2 pounds of lean ground beef (cooked and drained)

4 hard-boiled eggs (diced)

3 shredded carrots

¼ cup basil

2 tablespoons of olive oil
Mix all the ingredients well so that they are thoroughly blended and store in the refrigerator.
Some people prefer to keep their dog's diets consistent to avoid problems with finicky eaters or upset tummies and all the fun (no it's not really any fun at all) that goes with cleaning up after a sick pup. There's a reason it's called sick as a dog.
You want to avoid exotic seasonings in your pup's food so that your dog doesn't get sick from eating it and you should always seek to avoid feeding your dog junk foods that aren't even good for the human body and certainly aren't good for your pet's body.
Great Snacks for Dogs
Believe it or not, pups like sweet treats sometimes, too. Unfortunately, sugar isn't a friend to the canine body. However, there are some great foods that will make your pup happy as a lamb – and may provide health benefits too, such as:
Plain Greek yogurt.

Canned pumpkin or pureed natural pumpkin.

Eggs (boiled or scrambled they love eggs and eggs are great for their coats).

Tuna.

Cheese.
Your pup will love these treats, which should only be given in moderation to avoid the same risks humans experience when eating treats such as these. For a cool summer treat, you can freeze Greek yogurt and pumpkin in an ice cube tray and dole out treats on hot afternoons.
Great Snacks for Cats
Cats and dogs have more in common than you may realize, including their preferences for meat and some of their preferred snack choices. Domestic cats, like their jungle ancestors, are carnivores. They need meat and love plenty of it, these snacks are great choices for cats.
Deli meat.

Chicken.

Turkey.

Cooked salmon.

Cooked eggs.

Cheese.
Your cat will be purr happy with these perfect snacks. As for your cat, there are some snacks, commonly offered to cats, that can actually be harmful to them. One is tuna that is prepared for humans. It does not offer the same nutritional value to cats, though cats love it, and can lead to malnourishment – or worse – mercury poisoning. The other is milk. Milk simply isn't good for cats and can cause major health issues for them.
Linkside at Old Hawthorne is an exclusive 55+ community for active adults in Columbia, MO. We only want the best for our residents and their four-legged friends. Try these homemade pet food ideas and see what a difference they'll make for your pet.