Antiquing: Where to Go in CoMo to Celebrate Treasures From the Past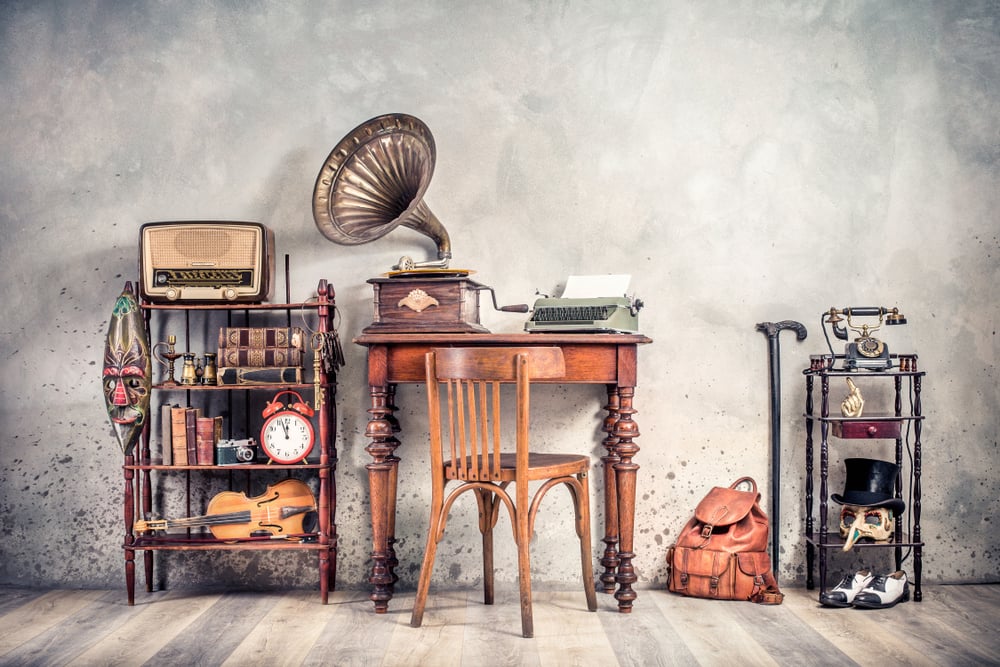 If you're an avid antique enthusiast, like many people are, retirement provides the perfect opportunity to indulge your hobby. You have both the time – and likely the funds – to pursue this passion. Of course, the hunting itself is free. And fun! And scoring a steal is always extra rewarding. Luckily, Columbia and other nearby Mid-Missouri towns have a wealth of resources to help you get your fill of fantastic finds!
Right Here at Home in CoMo
Antique enthusiasts will be pleased to know that you don't have to go far away to find some treasures from the past to add to your collection. Right here in Columbia, you can enjoy Artichoke Annies, the Midway Antique Mall (with over 7,000 square feet to peruse), Veranda Antique Mall and McAdams' Limited...to name a few.
A Quick Day Trip
If you feel like venturing out of town, maybe for some shopping and lunch at some of the featured restaurants in these tiny mid-MO towns...you'll expand your reach with antique stores across the area. These hidden gems make for a delightful day of exploring, reminiscing and discovering.
Here are a few of our favorite recommendations:
Rocheport, a small but quaint community overlooking the Missouri River is perfect for a stroll through downtown, perusing in the shops. Be sure to stop for ice cream or sip your favorite wine from Les Bourgeois Winery as you stroll.
Another afternoon outing can be found at the delightful town of Arrow Rock. You might get distracted, though, by the allure of the famous Arrow Rock Lyceum Theatre! We highly recommend tickets to a show or two. However, arrive early and wander down the old-fashioned wooden sidewalk and stop in every boutique. You'll be sure to find something to love.
Of course, heading back the other direction toward St. Louis, no antiquing excursion could be complete without a stopover at the Apple Wagon Antique Mall, the Rock Garden Antique Barn or Uptown Brick Antiques in downtown Fulton.
And not to be left out of the list of worthy day trips will take you on a turn slightly north to Centralia and Mexico. There's a host of vintage shops, reclaimed furniture stores and more to choose from! In Centralia, they've named the section of town "Antique Row" and you'll find it along Tower Avenue. Then you'll want to stop by Cora's Antiques and Coal Street Antiques in Mexico.
And don't miss the Moberly Antique Mall in downtown Moberly.
Venturing a Little Farther Afield
Rolla makes our list of worthy contenders for great antique finds at the Rolla Antique Mall - one of the area's largest antique malls with over 23,000 square feet to explore. They literally have something for everyone.
Last but not least, it's worth a trip toward Kansas City to Grain Valley, MO for some time well spent at the Brass Armadillo. You'll find antiques and collectibles from over 3,500 dealers in one location. What's not to love!
Estate Sale Activity
Of course, many unique finds can be discovered right in your own backyard by simply checking estate sales and listings. A scan of the newspaper, the Facebook page of the COMO Estate Sales and a glance at what events are being scheduled by Atterberry Auction will help you come up with a planned approach.
Tips for Successful Sorting
To make the most of your antiquing, our expert explorers have a few suggestions.
Have a budget in mind so that you don't have surprises in your checkbook at the end of the day. It's easy to get carried away and lose track of your totals.
With antiquing, especially estate sales, it's the early bird that gets the worm. Go early and scout through the array of antiques first, making note of any in which you have particular interest. Then go back and look at those items in more detail. That just helps make sure you don't miss anything important!
And lastly, know what something is worth to you. Be willing to walk away if a seller won't negotiate.
But most importantly, have fun! Antiquing is different from regular shopping, in that you are taking items that were once a delightful part of someone's home...and finding a place for them in yours.